Eat These Fish! is a Chefs Collaborative and Environmental Defense Fund partnership.
Our oceans are strained and sustainable fish choices can be hard to find. James Beard award winning chef Vitaly Paley and executive chef Ken Norris from Headwaters at the Heathman served a delicious three-course meal to celebrate the healthy recovery of the west coast groundfish fishery. The sold-out event helped us raise awareness about sustainable fish choices and raised money for Chefs Collaborative, a national non-profit that inspires, educates and celebrates chefs working to build a better food system.
March 9, 2017
Headwaters at the Heathman
1001 Southwest Broadway
Portland, OR
6:00 – 7:00pm  Reception – beer, wine and appetizers
7:00  Dinner – three-course dinner and wine pairings from Anne Amie Vineyards
Eat These Fish! is an ongoing campaign with the goal to connect chefs, restaurateurs, retailers and consumers with the story of the comeback of our nation's fisheries.
Your hosts:

Piper Davis – Grand Central Bakery and Board Chair, Chefs Collaborative
Ken Norris – executive chef, Headwaters at the Heathman
Vitaly Paley and Kimberly Paley – chef owner, Headwaters at the Heathman
Garrett Peck – director of operations, Headwaters at the Heathman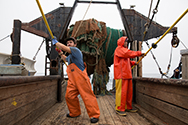 News on the fishery from EDF:
"Not only are West Coast fisheries among the most valuable in the United States, they also provide one of the best examples of how good management decisions help fisheries recover following periods of mismanagement or overfishing. In 2000, the Pacific groundfish fishery was declared a disaster. Today, it is internationally recognized for its successes in dramatically reducing bycatch and helping overfished species to recover. Furthermore, it has been vetted and certified by the most stringent seafood rating organizations as a highly sustainable fishery." [Read more]
---
Proceeds benefit Chefs Collaborative.
---